We love the University of San Diego's new supplemental essay prompt: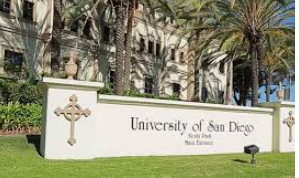 "The University of San Diego offers diverse educational opportunities grounded in the liberal arts and sciences. First-year students are immersed in one of our five Learning Communities (LC), with the themes reflecting the vitality of the liberal arts tradition: Advocate, Collaborate, Cultivate, Illuminate and Innovate. Select one of these five themes and describe how it resonates with you and why. 
Learning communities really help all students get connected and empowered. It's awesome they can share their own perspectives and connect them to USD's themes.
In our website and app, we list all essay requirements along with their length and format. USD's essay is (Required, 150-350 words, Paste in or Google Doc Share).  We also tell you where it's located: Questions: Other Information. 
In addition, we have the other USD writing supplemental essays that give applicants three choices, We provide each college's application deadlines, campus enrollment, and testing, interview, and recommendation requirements.