IECA Spring 2015 Presenter and Exhibitor
Baltimore native Dr. Rebecca Joseph will be presenting at Spring 2015 IECA on the amazing topic of "Rehabbing Your Image: Using College Essays To Strengthen Applications of Students Who Have Experienced Challenges." She will be presenting with fellow IECA member Elizabeth Stone and U VA Associate Director of Admissions Valerie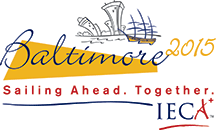 Gregory and Jack Kent Cooke Foundation Educational Advisor and Former Stonehill and Northeastern Admissions Officer, Evan Read.
WEDNESDAY, MAY 6• 3:00 – 4:15 P.M.
Dr.  Joseph is the the founder and creator of All College Application Essays. She will be exhibiting at IECA. Come visit us for info about her integrated mobile app and website. Enter for a free year and receive a free month at the All College Application Essays booth.