Directions To Get Started:
We are so excited. Our All College Application Essays website and integrated mobile apps are up and running. Our updated Google app and Apple App, and the two are inter-connected, so you can use your log in information for both. NOTE: You can only purchase our service on our website–either on your computer or website. 
People wanting to get started using our new, improved site, just need to follow the following steps.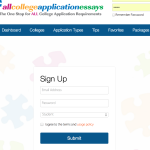 DIRECTIONS:

1. Go to our website either on your computer or mobile device:
http://college.allcollegeessays.org/web/signup
2. Sign up for an account. It's easy to do.  Just go to upper right hand corner of page and click on sign up. Your user name and password enable you to access the site on all portals–website and apps. (See picture below of sign up page).
3. After you make an account,
      1 Website on computer useres: then click on Packages on the dashboard and choose your package.
      2 Website on mobile users, click on menu bars on upper left hand sign of screen. On drop down menu, click on packages and choose your package.
4. To pay, the site will take you to Pay Pal, where you can use your account or just enter your credit card data as a guest user. It's secure, and I never receive your account info. All accounts are good for one year from purchase price.
5. If you have a google phone or device, go to the store, and download it for free at https://play.google.com/store/apps/details?id=com.accuretech.collage.app. You can set up your account from the app as well. If you have an iTunes account, you can download the app for free and update your current app. https://itunes.apple.com/us/app/all-college-application-essays/id531030349?mt=8
6. To get started using the app, after downloading it, just use your same username and password. The two sites are inter-connected. They update automatically, and require you to be connected to the internet to use.
7. Former users of our app, will need to create a new account as we upgraded our services and are now working on a 12 months user contract. It takes so much labor to update each year that we believe the new payment system is only fair.