Be Smart: Don't Miss Out on Smart Supplement CA4 Questions
The Common Application is smart this year. But don't be non-smart, and miss out on valuable questions with the new smart application. They affect scholarship and specific program questions.
Examples: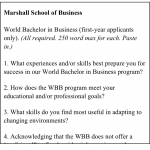 1. Ohio State does not have a general writing supplement. Yet for students who want to apply to honors programs and specific scholarships, they need to click yes to these programs under Academic Interests for specific prompts to pop up in an Ohio State Writing Supplement.
2. USC does have a writing supplement. Yet for certain majors, there are additional questions-Engineering and World Business. So keep track of them should you decide to add or change a major choice.
Good luck. If you see we are missing any, let us now. We are only person smart, not CA 4 smart. All College Application Essays is tracking all of these essays and their length and format requirements. YEAH for you. A joy collecting for us. Don't be left without an essay at the last minute.