August 27, 2013 Update: We have made it through the entire Common App & all major public and private universities. We provide every essay prompt, format, and length.
1.  Check the top of each essay/supplement page for 2014 essay/application status. There are only 20 or so CA4 supps left to post and and a few other universities posting in September-October.
2. Scroll down each section as there is lots of info per page and section.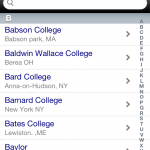 3. Hit "Get Updates" each time you open the app as we are updating the app daily.
4. Check our website:  www.allcollegeessays.org for different tips about helping students write powerful college app essays and more tips about using the app.