2017-2018 U Penn-Specific Prompts Released
Prospective applicants to the University of Pennsylvania recently received an email with the 2017-2018 writing prompts. The email started with a great quote from Ben Franklins: "Write something worth reading or do something worth writing." That is great advice for all college applicants. We posted the prompts–specific for each college at Penn– on our site.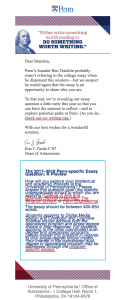 P.S. Penn always provides great advice for college applicant essay writers. http://www.admissions.upenn.edu/apply/whatpennlooksfor/essays
Happy weekend.