WOW Writing
Waiting, waiting, waiting for 2014 CA4 Writing Supplements
We thought the CA4 had promised to release all (or even most) Writing Supplements with its new CA4 launch yesterday. No such luck. Not one was posted on August 1, 2014. So we have been busily updating the other info we can –application due dates, test scores, teacher and other recommendations, and those colleges with no supplements. We also updated more than 60 copies with their actual essays–including Columbia and Carnegie Mellon today (we gathered these from websites and admissions officers)
If you learn of any new Writing Supplements we are missing, please let us know. We are working around the clock to update our app. So please support us. All College Application Essays rules!!!
2013-2014 Columbia Writing Supplement (will be posted on Common App in mid-August)
From Columbia Admissions Website:
In addition to the Common Application, applicants are asked to respond to Columbia-specific questions to tell the Admissions Committee more about their academic, extracurricular and intellectual interests. We review the responses to these questions very carefully in order get a full sense of the unique individual beyond their transcripts and test scores.
The 2013-2014 Columbia Writing Supplement will be available through the Common Application in mid-August. In the meantime, you are welcome to begin composing answers to the following questions:
Please list the following (150 words or less for each question):
the required readings from courses during the school year or summer that you enjoyed most in the past year;
the books read for pleasure that you enjoyed most in the past year;
the print or electronic publications you read regularly;
and the films, concerts, shows, exhibits, lectures and other entertainments you enjoyed most in the past year.
Please answer the following short answer questions (300 word or less for each question):
Briefly describe which single activity/interest listed in your Common Application represents your most meaningful commitment and why.
Tell us what you found meaningful about one of the above mentioned books, publications or cultural events.
Tell us what you find most appealing about Columbia and why.
For applicants to Columbia College, tell us what from your current and past experiences (either academic or personal) attracts you specifically to the field or fields of study that you noted in the Application Data section. If you are currently undecided, please write about any field or fields in which you may have an interest at this time.
For applicants to The Fu Foundation School of Engineering and Applied Science, tell us from your current and past experiences (either academic or personal) what attracts you specifically to the study of engineering.
Say It Isn't So: CA4 will not release all Writing Supplements on August 1
The Common Application committed to releasing all Writing Supplements on August 1. They wanted to make it easier for students and to control the process. Now they are taking a step back.  See what they wrote today:
On August 1, CA4 will launch and officially become the 2013-14 Common Application. It's hard to overstate the magnitude of change we're implementing for our 517 member colleges. To make sure their individual Questions and Writing Supplements work as they should, we're providing additional testing time for any college that needs it. To be clear, students will be able to access and work through every page of every screen within the Common App itself. College pages that are still in testing will display a message requesting students to check back later. Thank you in advance for your patience as we help our member colleges to put the finishing touches on their good work.
All College Application Essays will update all Writing Supplements as they come out. We will be going into a CA4 cave on Thursday and updating for the next few days.  You will know a college is updated if the essay says 2013-2014 on the top. Older ones will say 2012-2013. We will also update the ones we update starting the 1st on this site.
Please spread the word.
2014 Penn State Application + Schreyer Honors College
Personal Statement and Activities
A personal statement and an activities list are recommended but not required. Both of these sections are in the online application for admission.
The personal statement does not require an answer to a specific question or prompt, it is an opportunity for you to tell us anything about yourself that was not covered in the other parts of the application. The activities section allows you to copy and paste a resume or list the clubs and activities you in which you participate.
We suggest a limit of 500 words or fewer for each section.
Applicants to the Schreyer Honors College must submit letters of recommendation, but we do not otherwise consider letters of recommendation or teacher evaluations as part of our admissions decisions.
2014 Essay Questions for the Schreyer Honors College Fall Applicants
The Fall 2014 essay questions are…
A "bucket list" is a list of things that you would like to accomplish during your lifetime.  Please tell us a few of the things that might be on your bucket list and explain why they are important to you to accomplish.
If you were to develop an international version of Mt. Rushmore, which four faces (past or present) would you select and why?  In what part of the world would you want to create it?
What do you think is the most important concern or challenge facing humanity, and what will you do about it?
The complete 2014 SHC application will be available on the Penn State Admissions Website by Sept. 1, 2013.
We do not have requirements pertaining to word count or format for your responses.  A basic recommendation is to work on your responses in a Word document and then copy and paste them into the application.
2013-2014 Cornell Writing Supplement
From the Cornell Admissions Blog.
http://blogs.cornell.edu/admissions/2013/07/19/cornell-university-common-application-essay-questions/
The 2014 Common Application will be live on Thursday, August 1. The Cornell Essays and Questions section of the application will ask you to complete the essay question for the specific college/school you are applying to. If you are utilizing the primary/alternate option, you must complete the essay below for both colleges/schools that you are applying to. The Cornell Essays and Questions part of the application is very important and we want to allow plenty of time for you to adequately prepare. Here is a preview of the 2014 Cornell University essay questions:
(Remember that all Common Application essays need to be between 250 and 650 words.)
College of Agriculture and Life Sciences: How have your interests and related experiences influenced the major you have selected in the College of Agriculture and Life Sciences?
College of Architecture, Art, and Planning: Why are you excited to pursue your chosen major in AAP? What specifically about AAP and Cornell University will help you fulfill your academic and creative interests and long-term goals?
College of Arts and Sciences: Describe two or three of your current intellectual interests and why they are exciting to you. Why will Cornell's College of Arts and Sciences be the right environment in which to pursue your interests?
College of Engineering: Tell us about an engineering idea you have, or about your interest in engineering. Describe how your ideas and interests may be realized by—and linked to—specific resources within the College of Engineering. Finally, explain what a Cornell Engineering education will enable you to accomplish.
School of Hotel Administration: Hospitality is the largest industry in the world and includes sectors such as hotel operations, food and beverage management, real estate, finance, marketing, and law. Considering the breadth of our industry, please describe what work and non-work experiences, academic interests, and career goals influenced your decision to study hospitality management? How will these contribute to your success at the School of Hotel Administration?
College of Human Ecology: What do you value about the College of Human Ecology's perspective, and the majors that interest you, as you consider your academic goals and plans for the future?
School of Industrial and Labor Relations: Tell us about your intellectual interests, how they sprung from your course, service, work or life experiences, and what makes them exciting to you. Describe how these interests may be realized and linked to the ILR curriculum.
2013-2014 Pitzer Writing Supplement
The Pitzer Writing Supplement section of the Common Application gives you an opportunity to show your writing ability and illustrate your passion and creativity in responding to a particular question. Because we want to get to know you and discover what you have to offer this community, your essays are invaluable. Below you will find the Pitzer Writing Supplement question, which you will submit with your Common Application. The Writing Supplement has a maximum length of 650 words.
At Pitzer, five core values distinguish our approach to education: social responsibility, intercultural understanding, interdisciplinary learning, student engagement and environmental sustainability. As agents of change, our students utilize these values to create solutions to our world's challenges. Please answer only ONE of the following prompts
Incorporating one or more of our core values, how would you contribute to solving a local or global issue of importance to you?
OR
Reflecting on your involvement throughout high school or within the community, how have you engaged with one or more of Pitzer's core values?
2013-2014 Babson Writing Supplement
From the Babson admissions website (http://blogs.babson.edu/undergraduate/2013/07/19/tours-essays-and-popsicles/)
"…this seems to be the week of  schools posting their essay topics (Google College Essay topics 2013-2014) and we at Babson are no different. This year we changed our essay prompt, thanks to suggestions via Facebook from the incoming first year class. Here it is:
One way Babson defines itself is through the notion of creating great economic and social value everywhere. How do you define yourself and what is it about Babson that excites you?
You can answer this question using the traditional essay format, OR submit a 1 minute You Tube video (just include the URL in the essay section of the supplement. If you decide to make it a private link, be sure to give us access!).
Whichever path you take, this question is designed to get to know you as a person, as a student and as a future classmate. Who are you? What makes you happy? What are your quirks? Why Babson? (this is important-there are many schools out there-make sure that your answer is not so broad that it can apply to hundreds of schools-I call these horoscope essays) This information helps us connect with you, so that we can picture you on our campus full of eclectic, fun, engaged people that you hopefully saw when you visited. A transcript only goes so far in telling your story-the  rest we want to hear directly from you.
So, while college essays are never easy, we love them, because they make this process a human one. So, as soon as you think "If the Admission Office knew me, they would definitely want me at Babson," you're ready to tackle the essay.  Show us why we want you at Babson."
2013-2014 Stanford Writing Supplement 
1. Please briefly elaborate on one of your extracurricular activities or work experiences. (Required, 150 word limit, Paste in text box)
2. Please respond to the following seven inquiries so we can get to know you better. Do not feel compelled to use complete sentences. 
1. Name your favorite books, authors, films, and/or musical artists. (Required. 200 character with spaces limit. Paste in).
2.  What newspapers, magazines, and/or websites do you enjoy? ( Required. 200 character with spaces limit. Paste in).
     3.  What is the most significant challenge that society faces today? (Required, 50 word limit, Paste in).
     4. How did you spend your last two summers? (Required, 50 word limit. Paste in)
5. What were your favorite events (e.g., performances, exhibits, sporting events, etc.) this past year? (Required, 50 word limit, Paste in.)
     6. What historical moment or event do you wish you could have witnessed?(Required, 50 word limit, Paste in.)
     7.  What five words best describe you? (Required, 125 character limit. Paste in)
3. Three medium responses. All 250 word limits. 
     1. Stanford students possess an intellectual vitality. Reflect on an idea or experience that has been important to your intellectual development. (Required, 250 word limit. Paste in.)
2. Virtually all of Stanford's undergraduates live on campus. Write a note to your future roommate that reveals something about you or that will help your roommate — and us — know you better. (Required, 250 word limit. Paste in)
3. What matters to you, and why? (Required, 250 word limit. Paste in)

2013-2014 Tufts Writing Supplement
Class of 2018
Thanks to Tufts for updating its supplemental essays. Three of the essays are new and all give great chances for students to share unique new stories and essays.
http://admissions.tufts.edu/apply/essay-questions/
Here what Tufts has to say:
"When you visit the Common Application website to fill out and submit your application to Tufts, you'll notice that the application includes a writing supplement. The Tufts writing supplement consists of three required short response questions. We've created this page to allow you to peruse the questions without having to leave this site. Visit the Common Application site when you're actually ready to apply online.
Short Responses (Required of all Applicants)
Think outside the box as you answer the following questions.  Take a risk and go somewhere unexpected.  Be serious if the moment calls for it but feel comfortable being playful if that suits you, too. The suggested length for question 3 is 200-250 words.
1. Which aspects of Tufts' curriculum or undergraduate experience prompt your application? In short: "Why Tufts?" (50–100 words)
2. There is a Quaker saying: "Let your life speak." Describe the environment in which you were raised – your family, home, neighborhood or community – and how it influenced the person you are today. (200–250 words)
3. Now we'd like to know a little bit more about you.  Please respond to <u>one</u> of the following six questions (recommended 200-250 words):
A) "If you do not tell the truth about yourself you cannot tell it about other people," Virginia Woolf.  Respond to Woolf's quote in the medium of your choice: prose, video (one minute), blog, digital portfolio, slam poetry…  For media other than writing, please share a link (video can be submitted via YouTube but we recommend using a privacy setting) that is easily accessible. .
B) What makes you happy?
C) Sports, science and society are filled with rules, theories and laws like the Ninth Commandment, PV=nRT, Occam's Razor, and The Law of Diminishing Returns. Three strikes and you're out. "I" before "E" except after "C." Warm air rises. Pick one and explain its significance to you.
D) Celebrate your nerdy side.
E) Julius Caesar started it when he said "Carpe diem." Jonathan Larson proclaimed "No day but today!" and most recently, Drake explained You Only Live Once (YOLO).  Have you ever seized the day? Lived like there was no tomorrow?  Or perhaps you plan to shout YOLO while jumping into something in the future. What does #YOLO mean to you?
F) Boston is famous for its teams, its fans and its rivalries.  Whether you are goaltending or cheering from the stands, celebrate the role sports plays in your life."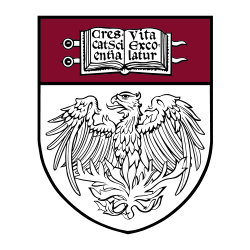 Every year, the University of Chicago asks applicants to write an additional long essay. Their prompts are some of the most creative around. They can often spark a great essay that applicants can use somewhere else or that even can become their common application long essays.
Here is the full supplement.
2013-2014 University of Chicago Writing Supplement.
1. How does the University of Chicago, as you know it now, satisfy your desire for a particular kind of learning, community, and future? Please address with some specificity your own wishes and how they relate to UChicago.Required Extended Essay. (Required, 275 Word Maximum, Paste In).
2. Share with us a few of your favorite books, poems, authors, films, plays, pieces of music, musicians, performers, paintings, artists, blogs, magazines, or newspapers. Feel free to touch on one, some, or all of the categories listed, or add a category of your own. (Required, 275 Word Maximum, Paste In).
3. Choose one of the six extended essay options and upload a one- or two- page response. (Required, Upload). Please upload your response here. Hint: A .pdf file under 500 KB in size will be accepted.
Essay Option 1.
Winston Churchill believed "a joke is a very serious thing." From Off-Off Campus's improvisations to the Shady Dealer humor magazine to the renowned Latke-Hamantash debate, we take humor very seriously here at The University of Chicago (and we have since 1959, when our alums helped found the renowned comedy theater The Second City).
Tell us your favorite joke and try to explain the joke without ruining it.
-Chelsea Fine, Class of 2016
Essay Option 2.
In a famous quote by José Ortega y Gasset, the Spanish philosopher proclaims, "Yo soy yo y mi circunstancia" (1914). José Quintans, master of the Biological Sciences Collegiate Division at the University of Chicago, sees it another way: "Yo soy yo y mi microbioma" (2012).
You are you and your..?
-Maria Viteri, Class of 2016
Essay Option 3.
This is what history consists of. It's the sum total of all the things they aren't telling us.– Don DeLillo, Libra. What is history, who are "they," and what aren't they telling us?
-Amy Estersohn, Class of 2010
Essay Option 4.
The mantis shrimp can perceive both polarized light and multispectral images; they have the most complex eyes in the animal kingdom. Human eyes have color receptors for three colors (red, green, and blue); the mantis shrimp has receptors for sixteen types of color, enabling them to see a spectrum far beyond the capacity of the human brain. Seriously, how cool is the mantis shrimp:http://www.mantisshrimp.uchicago.edu What might they be able to see that we cannot?
What are we missing?
-Tess Moran, Class of 2016
Essay Option 5.
How are apples and oranges supposed to be compared? Possible answers involve, but are not limited to, statistics, chemistry, physics, linguistics, and philosophy.
-Florence Chan, Class of 2015
Essay Option 6.
In the spirit of adventurous inquiry, pose a question of your own. If your prompt is original and thoughtful, then you should have little trouble writing a great essay. Draw on your best qualities as a writer, thinker, visionary, social critic, sage, citizen of the world, or future citizen of the University of Chicago; take a little risk, and have fun.