NACAC
Directions To Get Started:
We are so excited. Our All College Application Essays website and integrated mobile apps are up and running. Our updated Google app and Apple App, and the two are inter-connected, so you can use your log in information for both. NOTE: You can only purchase our service on our website–either on your computer or website. 
People wanting to get started using our new, improved site, just need to follow the following steps.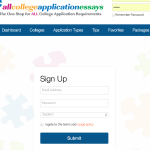 DIRECTIONS:

1. Go to our website either on your computer or mobile device:
http://college.allcollegeessays.org/web/signup
2. Sign up for an account. It's easy to do.  Just go to upper right hand corner of page and click on sign up. Your user name and password enable you to access the site on all portals–website and apps. (See picture below of sign up page).
3. After you make an account,
      1 Website on computer useres: then click on Packages on the dashboard and choose your package.
      2 Website on mobile users, click on menu bars on upper left hand sign of screen. On drop down menu, click on packages and choose your package.
4. To pay, the site will take you to Pay Pal, where you can use your account or just enter your credit card data as a guest user. It's secure, and I never receive your account info. All accounts are good for one year from purchase price.
5. If you have a google phone or device, go to the store, and download it for free at https://play.google.com/store/apps/details?id=com.accuretech.collage.app. You can set up your account from the app as well. If you have an iTunes account, you can download the app for free and update your current app. https://itunes.apple.com/us/app/all-college-application-essays/id531030349?mt=8
6. To get started using the app, after downloading it, just use your same username and password. The two sites are in
ter-connected. They update automatically, and require you to be connected to the internet to use.
7. Former users of our app, will need to create a new account as we upgraded our services and are now working on a 12 months user contract. It takes so much labor to update each year that we believe the new payment system is only fair.
8. Remember, anyone who bought the app in July or August of 2014, just needs to send us proof, and we'll send you a coupon for a free year. rjoseph@allcollegeessays.org
Make Your Stories Pop: 10 College Application Essay Guiding Questions
Working on the drafts of your personal statements for your college applications? The drafting process is critical and can help make your stories and messages clearer.  Please be willing to draft and re-write to make your essays stronger.
Here are 10 questions to help guide you through the editing process. I hope they can help make your stories pop on the page and help you get admitted to your match colleges and receive lots of scholarship money.
Does your essay start with a story that hooks us in from the first paragraph?
If you start in the past, do you get to the present very quickly? Colleges want to know about the recent you. Great essays can start more recently and weave in past events.
Do you write only in the first person and not spend too much time describing anyone or anything else? Use my one-third-two-third rule. You may not spend more than 1/3 of the essay describing anything other than your own activities and goals.
If you are writing about your community or family, do you get to the present and your life and life works quickly? Can this description only connect to you and your story of who are you and how you are making a difference?
Do you only tell one story and not try to tell your entire life story?
If you are writing about an obstacle or challenge overcome, do you get to how you have responded and made a difference in the life of your community by the second or third paragraph of the essay? Admissions officers want to know who are you and how you make an impact drawing upon your obstacles or challenges.
Do you have a metaphor that goes through the entire piece…does this metaphor reveal who you are and what you offer to potential colleges? You can embed this metaphor throughout out your piece.
Can I close my eyes and picture your story? Does it make you sound unique and not like anyone else applying? Can I see your leadership and initiative and the power of what you will offer a college campus?
Do you tell new stories and qualities in each separate essay your write? Do you make sure to reveal powerful information and core messages that colleges will need to know to admit you and give you money to attend?
Endings-Do you end with a bang? Do you make it clear by the end you have goals and aspirations that drive you. Your endings must be specific for some prompts like the University of California and University of Texas, but can be more oblique and implied in Common Application and many supplementary essays. Do you end leaving the reader with the desire to get to know you more, to see you on his or her campus, and to share your essay with someone else?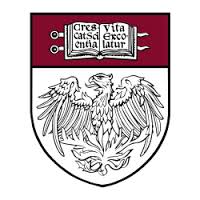 College applicants next year will have more application options as the University of Chicago is joining the Universal Application.
"We decided to announce we will join the Universal College Application for the next application year now because we want applicants, families, recommenders, and the Higher Education community to know of our commitment to providing them with an application option that is easy to use, reduces Continue reading →
New Version and Dr. Joseph to Speak at 2013 NACAC
We released version 2.7 of the app two days ago. It fixes all bugs. Please let me know if that works. Thank you for patience and for using our application.
https://itunes.apple.com/us/app/all-college-application-essays/id531030349?mt=8
Will you be attending NACAC? Dr. Joseph is presenting with admissions officers from Michigan and Yale on Saturday, September 21.
E10. Communicating Their Stories: Strategies to Help Students Write Powerful College Application Essays
Saturday, September 21, 2013
8:30 AM – 9:45 AM
Room 808
College application essays help students communicate their unique voices and stories and, therefore, become three dimensional to admission officers. Brainstorm ways to help students craft powerful college application essays that reflect core qualities not evident in the application, discuss what admission officers seek in application essays and interpret new Common Application essay prompts and mandated word limits. Learn ways to integrate essay writing into English or advisory classrooms and critique essays to learn strategies to coach students through essay writing.
2013-2014 Ohio State Writing Supplement
No General Ohio State Questions. Just for specific programs.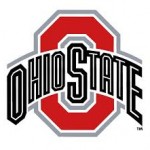 (To see these specific essays, you must click yes in Ohio State Members Questions under Academics.)
These applications are due November 1.
Morrill Scholars Program
Office of Diversity and Inclusion's Morrill Scholars Program Essay Prompt: How can you enrich the campus community and serve as an ambassador for diversity? What specific experience(s) and/or leadership efforts have you had that showcase your awareness and commitment to diversity? (To learn more about the Office of Diversity and Inclusion and the Morrill Scholars Program visit odi.osu.edu.) (Required for this program, 350 word max, Paste in.)The Morrill Scholars Program is offered through the Office of Diversity and Inclusion and seeks to reward leadership and academic excellence through diversity. Learn more at odi.osu.edu. Applicants who submit the Common Application and all required materials (test scores, letter of recommendation, transcripts, etc.) by November 1 will receive priority consideration for this program. Note: you must complete the MSP essay prompt in the Writing Supplement. (Required, 350-500 words, Paste in)
 Honors and Scholars Program
Ohio State's Honors and Scholars programs serve high-ability, motivated undergraduate students. Learn more at honors-scholars.osu.edu. Applicants who submit the Common Application and all required materials (test scores, letter of recommendation, transcripts, etc.) by November 1 will receive priority consideration for these programs. Note: you must complete the Honors and Scholars essay prompt in the Writing Supplement.
University Honors and Ohio State Scholars Essay Prompt: How do your individual passions and interests align with one or more of the G.O.A.L.S. of the Honors & Scholars Center? (To learn about the G.O.A.L.S. visit honors-scholars.osu.edu/goals.) (Required for these programs, 350-500 words, Paste in)
2013-2014 Wellesley Writing Supplement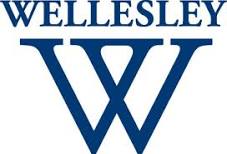 The required Wellesley "Writing Supplement," asks you to respond to the following in two well-developed paragraphs (no more than 400 words).
When choosing a college community, you are choosing an intellectual community and a place where you believe that you can live, learn, and flourish. We know that there are more than 100 reasons to choose Wellesley, but it's a good place to start. Visit the Wellesley 100 (www.wellesley.edu/100) and select one or two items that attract, inspire, or energize you. Have fun with this and use this opportunity to reflect personally on what items appeal to you most and why.
2014 Indiana University and Arizona State Apps Are Up
Indiana University releases first mandatory essay. Yeah. 
All freshman applicants are required to submit a brief personal statement as part of the admission application. You will be asked to share any information about your background or experience that may not be readily available from the application or supporting documents, such as any special circumstances related to your academic performance and/or why you are interested in attending IU. You are limited to 300 words.
Arizona State App and Its 2014 Barrett College Essay are out.
Arizona State has not application essay.
2014 Barrett Honors College Essay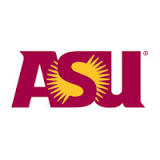 One long essay for underclassmen. Two essays for upperclassmen.
Upload in word or as PDF.
The essay is an exceptionally important component of your application to Barrett. It adds a personal dimension to your application and helps us to see you as a whole person. It also helps us to assess your ability to write effectively. Please write an essay of less than 500 words that answers one of the following three questions:
1. Discuss how a particular work of music, literature, or art has inspired your educational path.
2. Describe your most significant academic achievement or intellectual endeavor. Highlight how it will influence your undergraduate education or goals for the future.
3. Barrett is composed of students from diverse backgrounds with distinctive life experiences. Explain how your cultural traditions (national, ethnic, religious, or other facets of your background) shape your view of the world around you.
If you are applying for Upper Division enrollment consideration, a second essay of less than 250 words that explains why you would like to be a part of Barrett is also required.
These essays must be composed in PDF or Microsoft Word format and can then be uploaded to the Barrett online application.
2013-2014 Writing Supplement (Thanks to CMU)
2013-2014 Carnegie Mellon Writing Supplement 
2. List the books (if any) you've read this year for pleasure. Choose one and in a sentence describe it's impact on you. (Required, 500 word max, Paste in)
3. Were you interviewed by an alumni or on campus representative? If so, indicate the name of your interviewer and tell us how it impacted your decision to apply. (Required, 500 word max, Paste in)
4. ART SUPPLEMENT LINK: https://cmu.slideroom.com/#login/commonapp/688c98b9-ec8d-41e7-b6b1-6cb34c37ec66
I  really love the app (ALL COLLEGE APPLICATION ESSAYS) and use it as a go-to for a lot of different things.  I notice it's available through the Google Play store now (I'm an Android AND an Apple user — go figure!)
I took a screen shot of the Middlebury app and sent it to my colleague in Westchester NY and she bought the app, too. I also introduced it to our local public high school college programs coordinator.
Janis Allen
The Writing Sections of The 2013-2014 Common Application
The Common App just released the format of the Writing Sections sections. This information won't challenge kids as they won't know what came before. But these changes will take counselors a while to adapt to. In addition to what they released today, while students can submit unlimited alternate versions, they can only make changes to essay three times.
This is what the Common App just released:
"THE WRITING SECTIONS: FIRST LOOK
What writing opportunities are available in the 2013-14 Common Application?
• The Essay. Required of all applicants.
• Additional Information. Optional for applicants who wish to report circumstances or
qualifications not reflected elsewhere in the application.
• Required Explanations. Conditionally required for applicants based on responses to
application questions about school discipline, criminal history, military discharge, or an
interrupted education.
What is changing about writing in the Common Application?
• There are 5 new essay prompts. They will be reviewed annually and may change, in
whole or in part, based on member feedback.
• Each writing section will have an enforced 650 word limit. The essay will not allow a
response shorter than 250 words.
• The extracurricular short answer question will be moved to individual member Writing
Supplements for colleges that wish to review an answer to that question.
• Uploaded documents will be replaced by text-entry. Students can compose their
responses directly in the application or cut-and-paste a response drafted in another word
processing program.
What are the advantages of text-entry relative to uploads?
• Mobile/touchscreen devices can be better supported.
• Word count can be enforced, creating a more level playing field for applicants.
Can students format their writing?
Yes. Basic formatting (bold, italics, underline, and accented characters) will be available.
In addition, text pasted from a word processing program will typically retain these styles of  formatting. An analysis of 2011-12 essays revealed that 99.7% of them had either no special formatting or the basic formatting that we will support in CA4.
Will students have other opportunities to share more writing or additional submissions?
Yes. Any college that wants to collect and review writing samples may continue to do so on their Writing Supplement. In addition, any member willing to receive uploaded documents such as résumés, research papers, or graded assignments can invite these submissions on their Writing Supplement–or not–as they choose."