Common Application
New Leadership at the Common Application
The Common Application is the online application program that serves more than 500 colleges. It changed dramatically last year and had challenges for all users. Perhaps the change in leadership will not only make the application easier but also its communication with and respect for others.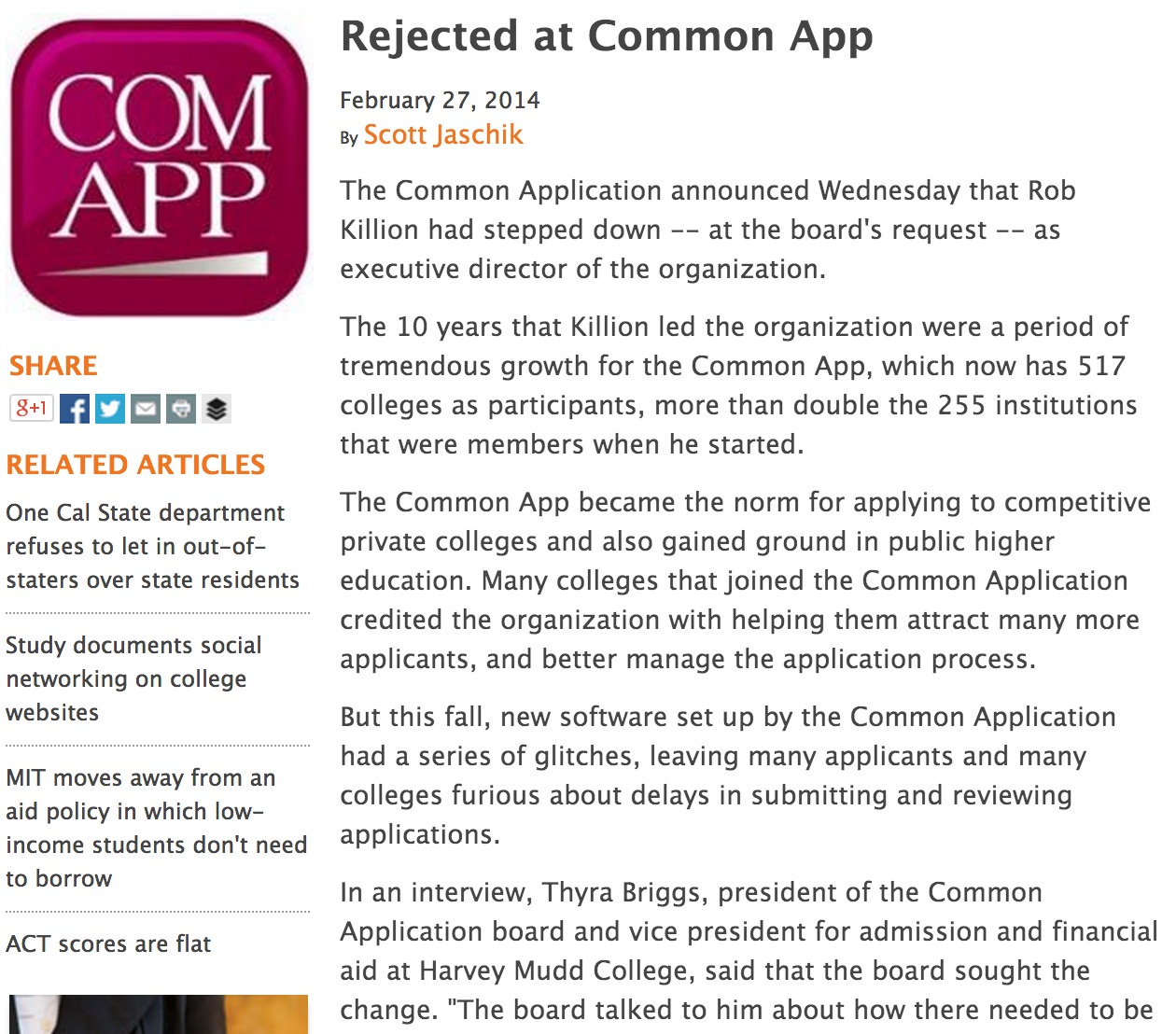 http://www.insidehighered.com/news/2014/02/27/common-application-following-difficult-year-announces-departure-executive-director
2014-2015 Common Application Prompts Stay the Same
From the Common Application Website The Common Application will retain the current set of first-year essay prompts for 2014-15, without any edits or additions. The essay length will continue to be capped at 650 words. The feedback received from member colleges and school counselors has been positive. The essay prompts will be reviewed on an annual basis to ensure that they continue to serve students and member colleges well.
The essay prompts are as follows:
Some students have a background or story that is so central to their identity that they believe their application would be incomplete without it. If this sounds like you, then please share your story.
Recount an incident or time when you experienced failure.  How did it affect you, and what lessons did you learn?
Reflect on a time when you challenged a belief or idea.  What prompted you to act? Would you make the same decision again?
Describe a place or environment where you are perfectly content.  What do you do or experience there, and why is it meaningful to you?
Discuss an accomplishment or event, formal or informal, that marked your transition from childhood to adulthood within your culture, community, or family.
Minnesota Colleges Develop New Part Ones
In these stormy times, many colleges cannot yet access the submitted Common Applications, so they have developed independent part ones, so they can at least learn about applicants. Several private colleges in Minnesota are clever and each has developed a new part one: Macalaster, Carleton, and St. Olaf.
Here is what St. Olaf said on its website: Continue reading →
University of Chicago, UNC, Georgia Tech, Roanoke, Columbia Change Deadlines
With the new Common Application and its glitches, some schools are pushing back freshman early deadlines like they did for Hurricane Sandy. UNC and Georgia Tech have moved early action deadlines from October 15 to October 21. Roanoke has moved its Fall Priority Deadline also the 21st, while Columbia Deadline has moved its ED deadline to November 8.  The University of Chicago has also pushed back its Early Action deadline for all applicants, including Questbridge until November 8.
Many colleges are softening transfer deadlines as well. Check each one's website to check for updates.
See a letter from UNC.
"Dear Colleagues,
We realize many of you are working diligently to assist your students with completing the Common Application, and that despite your best efforts, you are encountering many difficulties. As a result, we are extending our Early Action deadline until 11:59 PM, EDT on Monday, October 21st. We hope this will give you and your students the extra time needed to submit applications. This information is already posted on our blog and will be sent to all prospects via email later today. Please also remember counselors have until November 1st to submit application materials, including high school transcripts, counselor statements and recommendation letters.
We do recommend that your students submit their application as soon as the Common Application is functioning rather than waiting until right before our extended October 21st deadline. We hope the extra time helps relieve even a minor amount of stress. Please do not hesitate to call us with further questions or concerns.
Sincerely,
Office of Undergraduate Admissions
University of North Carolina at Chapel Hill"
College Essay is Hot Subject!
By Kim Lifton
Snapshot of Wow banner displayed at NACAC Conference 2013.
A reporter from Inside Higher Eddropped by the Wow booth last month during the National Association for College Admission Counseling annual convention in Toronto, ready to learn more about the college application essay.
"It seems the college essay has become a really hot subject," he said, pulling out his notebook and asking several questions about the application essay.
As early admission deadlines near for this year's applicant pool, the college essay is indeed a hot topic. High school counselors packed sessions atNACAC that focused on the college essay, and our booth was swarming with curious conference goers, wondering if we had a secret formula for writing a winning application essay.
No College Essay Formula
There's no college essay formula, we assured them, but Wow does have a secret weapon: a set of simple instructions in an online tutorial that guides students through the process of discovery, and helps them find their own writing voices.
Here's what we took home from the conference: Admissions people from small liberal arts colleges, the Big 10 and the more selective universities agreed they are tired of reading sanitized essays; they want to read more genuine stories written in a 17-year-old voice.
Let Your 17-Year-Old Voice Be Heard
"Let the 17-year-old voice be heard," tweeted Dr. Rebecca Joseph, an associate professor at California State University, Los Angeles, following a lively panel discussion she moderated: Communicating Your Story: Writing Powerful College Application Essays.
Dr. Joseph, who developed the All College Application Essays app, which provides essay prompts for more than 700 colleges, added that the essay is an opportunity to tell a story that is important to you, and to share your authentic voice.
"Make yourself come alive during this process," Dr. Joseph said. "Write about yourself as passionately and powerfully as possible. Be proud of your life and accomplishments. Sell yourself!"
All-star College Essay Panel
Joseph's all-star panel featured Rebecca Cullen, Senior Program Manager, Young Scholars Program, Jack Kent Cook Foundation; Margit Dahl, Director of Undergraduate Admissions, Yale University; and Erica Sanders, Managing Director, Office of Undergraduate Admissions, University of Michigan. Each reiterated the importance of a student's authentic voice in an essay.
"We don't want them heavily edited by an adult, " Yale's Dahl said. "We really need to hear the adolescent behind the essay. We don't want to hear a 45-year-old voice. Parents may know them best, and they are good people to read; but not with hands on a keyboard or a red pen in hand."
Also at the conference, visitors to our booth inquired further about voice, over-involved parents and students who write five-paragraph essays to answer college application essay prompts. We interviewed current and former admissions officers from dozens of schools, including Cornell, UNC-Chapel Hill, Yale, Skidmore College, George Washington University and Denison. (See video interviews from last year; more coming soon!)
Indiana Adds Short College Essay Requirement
What's more, we discussed the new 300-word personal statement added to theIndiana University application with the director of admissions, learned about the soon-to-be redesigned SAT and SAT writing test, and listened to Common Apprepresentatives explain how they will fix the gaffes in the CA4.
Wow is a member of NACAC, MACAC, Illinois ACAC, Overseas ACAC and an affiliate of IECA and HECA.
Kim Lifton is president of Wow Writing Workshop. You can read Kim's blogs and get useful writing tips by signing up for Wow's newsletter. Wow is also on Facebook and Twitter. Check our schedule to sign up for weekly webinars and workshops that will help you and your students write great college admissions essays. Remember this: YOU are your perfect college essay subject.
Let the 17 Year Old Voice Be Heard
During our September 21 NACAC sessions, admissions officers from both Yale and the University of Michigan along with Dr. Joseph and Rebecca Cullen from the Jack Kent Cooke Foundation made it clear that they prefer to read college application essays from high school senior whose own voices emerge not the voices of parents, counselors, or other well meaning advisors. Dr. Joseph joined them in advocating for different strategies to help students write their own powerful college application essays. "We can help students write powerful essays that express unique 1st person experiences that only a true teenager can share," Dr. Joseph recommends.
Some audience members worried that poor writing skills, weak English levels, or lack of experiences could limit essays. Dr. Joseph and the other panel members encouraged audience members to focus on the core goal of finding the match college for students. "All students have stories. Just look at the Facebook pages or Instagram. They come in all shapes and sizes," says Dr. Joseph. We need to help students see the stories in their own lives. They are going to college to learn. They need to be honest in how they present themselves so they can receive the best education possible." Panelists recommended the use of case studies, model essays, and several brainstorming activities to help students and families see that there is no standardized college application essay.
2013-2014 University of Puget Sound Writing Supplement 
No essays for regular applicants.
1. Lillis Scholarship-Upload Each Separately 
Lllis Scholarship Application Question 1
A primary objective of the Lillis Scholarship is to encourage intellectual independence. To illustrate your own intellectual independence and ability to integrate it into your life, please provide the selection committee with an original 500-word essay in which you respond to the following prompt:
Describe an intellectual idea that has transformed your thinking.
Lillis Scholarship Application Question 2
2. Matelich Scholarship Application Question. Upload.
3. Honors Program
1. Honors Program Application Essay 1, 300 words, Paste in.
If you could add one book to the Honors Program Reading List, which would you choose, and why? In what ways have you found this book intellectually engaging and meaningful? Please refer to the Honors Program website (www.pugetsound.edu/honors) to view the reading list. (300 words)
2. Honors Program Application Essay 2, 200 words. Paste in.
Briefly tell us what special interests, perspectives, and experiences you would bring to your Honors cohort. (200 words)
3. Honors Program Application Essay 3 (optional). Upload.
4, Business Leadership Program
1. Business Leadership Program, Application Question 1
What interests you about the Business Leadership Program? How might this program affect your short-term and long-term academic and career goals? (100-200 words, Paste in)
2. Business Leadership Program Application Question 2
Describe your most significant leadership experience or your role as an exemplary follower in a school or extracurricular activity. (100-200 words, Paste in)
3. Business Leadership Program Application Question 3
Discuss your academic strengths and relative weaknesses. (100-200 words, Paste in)
4. Business Leadership Program Application Question 4
Summarize the most interesting or challenging courses you have taken in high school. Why were these courses challenging or interesting? (50-100 words, Paste in)
2013-2014 Duke Writing Supplement 
 The Writing Supplement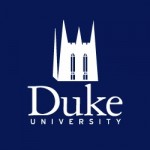 All applicants must respond to the prompt:
Please discuss one of your extracurricular activities that has required a particularly significant time commitment or that has played a meaningful role in your personal development. (Required, 150 words, Paste in)
All applicants to the Pratt School of Engineering must respond to the prompt:
Please discuss why you want to study engineering and why you would like to study at Duke.  (Required, please limit your response to no more than 150 words.)
First-year applicants to the Trinity College of Arts and Sciences may respond to the prompt:
Please discuss why you consider Duke a good match for you. Is there something in particular at Duke that attracts you? (Optional, Please limit your response to no more than 150 words.)
Transfer applicants to the Trinity College of Arts and Sciences may respond to the prompt:imit your response to no more than 150 words.)
If you want to transfer to Trinity College of Arts & Sciences, please discuss why you consider Duke a good match for you. Is there something in particular at Duke that attracts you? (Optional, Please limit your response to no more than 150 words.)
All transfer applicants respond to the prompt:
Consider the books, essays, poems, or journal articles you have read over the last year or two, either for school or leisure. Please discuss the way in which one of them has changed your understanding of the world, other people, or yourself. (Please limit your response to no more than 150 words.)
2013-2014 Colby and Bucknell Writing Supplements
2013-2014 Colby Writing Supplement 
1. Briefly describe how your interest in Colby developed and why you have decided to apply for admission. (Required. 250 word maximum. Paste in or Type in).
2. Students who wish to include any additional information or a resume may do so here.(Optional, Upload)
Bucknell Writing Supplements with Bucknell's Merit Scholarship Info
1. Please explain why you are interested in the first-choice major/undecided status chosen on the Common Application. (Required, 200 words maximum, Paste in)
2. Please ch
oose one of the options below and write an essay on the topic selected. (Required, 250-650 words, Paste in)
     1. Albert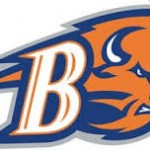 ist makes a difficult choice. Do you agree or disagree with the decision he or she made? Explain why you agree or disagree.nderstand a new idea or learn a new skill, and why it mattered to you to do so.Einstein once said, "It's not that I'm so smart, it's just that I stay with problems longer." Briefly describe a time when you had to persist to u
2. In novels or movies, the protagonist is typically faced with a difficult choice or decision. Pick a movie or novel where the protagon
3. Imagine that you are backpacking through a country you have never been to before. You are interested in engaging with it.
2014 Arts Merit Scholarships
https://www.bucknell.edu/admissions/tuition-and-financial-aid/arts-merit-scholarships.html
a one-page letter explaining why you are interested in the program and what skills or interest you would offer Bucknell's community
a writing sample of literary criticism that explores one or more texts from the genres of poetry, prose, or drama (1,500-2,000 words, double-spaced, 12 pt font)
a teacher recommendation that discusses your literary and creative abilities
Candidates for the art history merit scholarship should submit a short writing sample (max. 800 words) on an art historical topic, with visual analysis preferred. Applicants may choose to address any art historical theme they find interesting. Ideally, the writing sample will include the discussion of at least one work of art, with a focus on the analysis of the work's subject matter and style.
Studio Art Pre-Screening Materials
Candidates for the studio art merit scholarship should submit 10-20 images of artwork on a CD in JPEG format. Each JPEG should be sized between 300k and 500k. Images should be prepared in a professional manner: make sure that your images are in focus and cropped appropriately. On a separate sheet of paper, provide information about each image: title, year created, dimensions and media.
Studio art candidates should also submit a 250- to 350-word statement addressing these questions:
Why do you make art?
What concepts or subject matter do you focus on in your work, and why?
What materials, techniques and processes do you use to create your work?
Why do you want to major in studio art?
Creative Writing Pre-screening Materials
Candidates for the creative writing merit scholarship should submit the following:
a one-page letter explaining why you are interested in the program and what skills or interests you would offer Bucknell's writing community
a writing sample of either three to five poems or a story of fiction or creative non-fiction (1,500-2,000 words, double-spaced, 12 pt font). The writing sample should be in one document.
a teacher recommendation that discusses your writing and creative abilities
Film/Media Studies Pre-screening Materials
Candidate for the film/media studies merit scholarship should submit the following:
a one-page letter explaining why you are interested in the program and what skills or interest you would offer Bucknell's film community
a teacher recommendation that discusses your film/media and creative abilities
a sample film analysis (or analysis or other visual media) that demonstrates critical thinking skills: please do not submit film reviews or sample screenplays (1,500-2,000 words, double-spaced, 12 pt font)  OR
a demo reel (no more than 4 minutes) highlighting creative film/media/visual media production work. You may submit a video file or a link to your demo reels from a popular video sharing website such as YouTube or Vimeo.
Theatre Pre-screening Materials
Candidates for the theatre merit scholarship should submit the following:
a résumé that highlights depth and dimension of experience in theatre (acting, directing, design and technology)
two recommendations from theatre teachers, directors, coaches or mentors that discuss creative abilities, training and potential
"I really love the app (ALL COLLEGE APPLICATION ESSAYS) and use it as a go-to for a lot of different things. I notice it's available through the Google Play store now (I'm an Android AND an Apple user — go figure!)

I took a screen shot of the Middlebury app and sent it to my colleague in Westchester NY and she bought the app, too. I also introduced it to our local public high school college programs coordinator." —Janis Allen