2015-2016 Common APP Essays Prompts and Commentary
By Rebecca Joseph
The News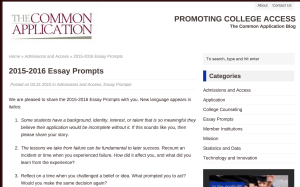 The Common Application last week released its 2015-2016 freshman essay prompts. They include one entirely new prompt (prompt four) replacing the one about the place where you are perfectly content. They revised the first two prompts and kept two (essay three and five). The length of 250-650 words remains the same, and colleges can now make the essay optional. The Common Application also states that it will help kids identify all supplemental essays they need to write in a more streamlined way.
Here are the prompts with the new sections italicized next to last year's prompts
2015-2016 Prompts
2013-2015 Prompts
Prompt One- Revised

Some students have a background, identity, interest, or talent that is so meaningful they believe their application would be incomplete without it. If this sounds like you, then please share your story.

Prompt One

Some students have a background or story that is so central to their identity that they believe their application would be incomplete without it. If this sounds like you, then please share your story.

Prompt Two- Revised

The lessons we take from failure can be fundamental to later success.Recount an incident or time when you experienced failure. How did it affect you, and what did you learn from the experience?

Prompt Two

Recount an incident or time when you experienced failure.  How did it affect you, and what lessons did you learn?

Prompt Three- Same

Reflect on a time when you challenged a belief or idea.  What prompted you to act? Would you make the same decision again?

Prompt Three

Reflect on a time when you challenged a belief or idea.  What prompted you to act? Would you make the same decision again?

Prompt Four- New

Describe a problem you've solved or a problem you'd like to solve. It can be an intellectual challenge, a research query, an ethical dilemma-anything that is of personal importance, no matter the scale. Explain its significance to you and what steps you took or could be taken to identify a solution. 

Prompt Four

Describe a place or environment where you are perfectly content.  What do you do or experience there, and why is it meaningful to you?

Prompt Five- Same

Discuss an accomplishment or event, formal or informal, that marked your transition from childhood to adulthood within your culture, community, or family.

Prompt Five

Discuss an accomplishment or event, formal or informal, that marked your transition from childhood to adulthood within your culture, community, or family.
Commentary
Prompt 1. Thank goodness this prompt now includes talents and interests. It empowers students to tell any number of powerful stories about their passions. It changes "central" to "meaningful" freeing writers to tell a wide range of unique stories. It seems to me like a cool alternative to topic of your choice.
Prompt 2. I am glad that the new prompt starts with lessons from failure that lead to success as the former prompt led many students to stay mired in failures without discussing even more relevant successes. After all, colleges want to know who the applicants are now because of former failures.
Prompt 3. This prompt about challenging ideas or beliefs remains the same and always leads to fascinating essays. I always tell students that community service actions often challenge the status quo, and anyone who is the first in their families to go to college always challenge ideas and beliefs.
Prompt 4. This entirely new prompt is interesting and will now empower students to explore intellectual topics and other problems they solve in and out of classrooms. It does potentially overlap with prompt three as solving problems can often challenge beliefs or ideas.
Prompt 5. This prompt remains the same, and yet it's the prompt that the fewest of the students I work with across all socio-economic, ethnic, and cultural groups tackle. Few teens view themselves as adults, and writing about bar-mitzvahs and quinceaneras does not usually lead to great essays. It takes more work to help a student see this prompt as relevant and to realize that many of their actions show how they are now "adults."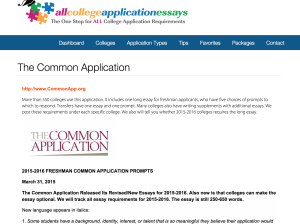 Final thoughts.
It's a shame that the one explicitly happiness oriented prompt is gone because I witnessed amazing essays emerge from students grappling with what it means to be content in complex situations. But I can imagine that many of the essays that never had any dimension frustrated and even bored admissions officers.
I wonder why the multi-pronged application with such reach is now making the long essay optional. Writing the essay provides teens with an incredible opportunity to share unique stories that communicate what they can offer colleges. Colleges that make it optional may be trying to up application numbers while missing out on a key source of original data.
I do thank the Common Application for including a wide range of voices in their surveys and displaying more transparency in their non-profit work.
ONE MORE YEAR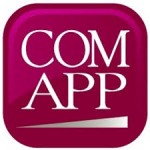 Remember. The Common Application Essays Remain The Same for One More Year.
Instructions.  The essay demonstrates your ability to write clearly and concisely on a selected topic and helps you distinguish yourself in your own voice. What do you want the readers of your application to know about you apart from courses, grades, and test scores? Choose the option that best helps you answer that question and write an essay of no more than 650 words, using the prompt to inspire and structure your response. Remember: 650 words is your limit, not your goal. Use the full range if you need it, but don't feel obligated to do so. (The application won't accept a response shorter than 250 words.)
Some students have a background or story that is so central to their identity that they believe their application would be incomplete without it. If this sounds like you, then please share your story.
Recount an incident or time when you experienced failure. How did it affect you, and what lessons did you learn?
Reflect on a time when you challenged a belief or idea. What prompted you to act? Would you make the same decision again?
Describe a place or environment where you are perfectly content. What do you do or experience there, and why is it meaningful to you?
Discuss an accomplishment or event, formal or informal, that marked your transition from childhood to adulthood within your culture, community, or family.
The Powerful College Application #Selfie
See Dr. J's newest Huffington Post blog about how college applicants need to show up more in their application essays.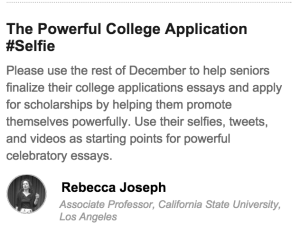 http://www.huffingtonpost.com/rebecca-joseph/the-powerful-college-application_b_6298218.html
Here is the first paragraph…
In this era of shameless teenage self-promotion through selfies, Instagram and Snapchat, it is remarkable how much difficulty many high school seniors experience in writing effective college application essays. For the past several months, I have mentored hundreds of high seniors throughout their college application preparation, especially in conceptualizing, writing and revising their college application essays. For the large majority of them, I have had to tell them: "You need to show up more in your essays."
Location of Supplemental Essays
All College Application Essays tracks all essays college applicants need to write. We put the prompts by college. We show you
1. Where the prompts are located. Member Questions Section or Separate Writing Supplement
2. What the actual prompts are along with their required lengths and submissions formats
3. Who the prompts are for: everyone, specific groups, or optional.
The Common Application did post a list of where applicants can find essays within the applications. But not their specific location in Member Questions.
Directions To Get Started:
We are so excited. Our All College Application Essays website and integrated mobile apps are up and running. Our updated Google app and Apple App, and the two are inter-connected, so you can use your log in information for both. NOTE: You can only purchase our service on our website–either on your computer or website. 
People wanting to get started using our new, improved site, just need to follow the following steps.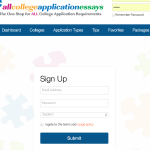 DIRECTIONS:

1. Go to our website either on your computer or mobile device:
http://college.allcollegeessays.org/web/signup
2. Sign up for an account. It's easy to do.  Just go to upper right hand corner of page and click on sign up. Your user name and password enable you to access the site on all portals–website and apps. (See picture below of sign up page).
3. After you make an account,
      1 Website on computer useres: then click on Packages on the dashboard and choose your package.
      2 Website on mobile users, click on menu bars on upper left hand sign of screen. On drop down menu, click on packages and choose your package.
4. To pay, the site will take you to Pay Pal, where you can use your account or just enter your credit card data as a guest user. It's secure, and I never receive your account info. All accounts are good for one year from purchase price.
5. If you have a google phone or device, go to the store, and download it for free at https://play.google.com/store/apps/details?id=com.accuretech.collage.app. You can set up your account from the app as well. If you have an iTunes account, you can download the app for free and update your current app. https://itunes.apple.com/us/app/all-college-application-essays/id531030349?mt=8
6. To get started using the app, after downloading it, just use your same username and password. The two sites are in
ter-connected. They update automatically, and require you to be connected to the internet to use.
7. Former users of our app, will need to create a new account as we upgraded our services and are now working on a 12 months user contract. It takes so much labor to update each year that we believe the new payment system is only fair.
8. Remember, anyone who bought the app in July or August of 2014, just needs to send us proof, and we'll send you a coupon for a free year. rjoseph@allcollegeessays.org
Make Your Stories Pop: 10 College Application Essay Guiding Questions
Working on the drafts of your personal statements for your college applications? The drafting process is critical and can help make your stories and messages clearer.  Please be willing to draft and re-write to make your essays stronger.
Here are 10 questions to help guide you through the editing process. I hope they can help make your stories pop on the page and help you get admitted to your match colleges and receive lots of scholarship money.
Does your essay start with a story that hooks us in from the first paragraph?
If you start in the past, do you get to the present very quickly? Colleges want to know about the recent you. Great essays can start more recently and weave in past events.
Do you write only in the first person and not spend too much time describing anyone or anything else? Use my one-third-two-third rule. You may not spend more than 1/3 of the essay describing anything other than your own activities and goals.
If you are writing about your community or family, do you get to the present and your life and life works quickly? Can this description only connect to you and your story of who are you and how you are making a difference?
Do you only tell one story and not try to tell your entire life story?
If you are writing about an obstacle or challenge overcome, do you get to how you have responded and made a difference in the life of your community by the second or third paragraph of the essay? Admissions officers want to know who are you and how you make an impact drawing upon your obstacles or challenges.
Do you have a metaphor that goes through the entire piece…does this metaphor reveal who you are and what you offer to potential colleges? You can embed this metaphor throughout out your piece.
Can I close my eyes and picture your story? Does it make you sound unique and not like anyone else applying? Can I see your leadership and initiative and the power of what you will offer a college campus?
Do you tell new stories and qualities in each separate essay your write? Do you make sure to reveal powerful information and core messages that colleges will need to know to admit you and give you money to attend?
Endings-Do you end with a bang? Do you make it clear by the end you have goals and aspirations that drive you. Your endings must be specific for some prompts like the University of California and University of Texas, but can be more oblique and implied in Common Application and many supplementary essays. Do you end leaving the reader with the desire to get to know you more, to see you on his or her campus, and to share your essay with someone else?
2014-2015 All College Application Essays AUGUST Essays Update
Can't you believe it? We have already updated more than 700 colleges. There are still a few universities who haven't posted their writing supplements or released their own applications or honors essays. Here are the Common and Universal Applications that haven't released supplements as of August 25, 2015.
We hope to have our new web and app version out by September 1, 2014. It's not easy dealing with developers that live overseas. So thanks for your patience.
Common Application Supplements Not Yet Out. You can tell we have updated an application with new deadlines and 2014-2015 at top of essay page.
American University–need to check in September for AU Emerging Global Leader Scholarship for International Students:
Bard Early Start–check essays in September
Dominican University of California-updated all but Nursing Supp. not yet available
Emory University–Merit scholarship essays not yet updated on Emory website
Lake Erie College
Long Island University Brooklyn Campus
Mount St. Mary's College-Los Angeles
Naropa University
Pine Manor College
Rhode Island School of Design
Rice University-2015 Rice/Baylor College of Medicine Applicants
Roger Williams University
Saint Francis University
Siena College- Supplement for Medical program not yet available
Southern Connecticut State University
The George Washington University (Writing Supplement not yet available)
University of Massachusetts Dartmouth (Writing Supplement not available yet)
Universal Application Supplements Not Yet Available
Embrace Additional Writing Requirements. Most selective colleges using the Common Application have individual Member Questions and/or Writing Supplements. View these supplemental essay opportunities as great offerings, as less is not more in the world of the competitive application process. Colleges that have supplemental essays really want to learn more about you– from you. So give them what they want. Great supplemental essay responses will give admissions officers more reasons to admit you and even give you a scholarship.
 Start with the big picture. Take a look at each written piece the college will receive from and about you—include your essays from the Common Application and even your activity list and letters of recommendation. Look at the supplemental essays as a way to flesh out and expand that picture. See all of your opportunities to share information, and make sure you don't repeat yourself and what you've already discussed in the Common Application.
 Each college's questions are unique. While all colleges will see your Common Application, only the individual colleges will see your additional responses. So each one is different. Colleges can ask all kinds of questions. Some will have one essay while others will have several. Each question and/or supplement, no matter what it requires you to provide, is another opportunity to provide more valuable information about yourself to the colleges you seek to attend.
 Each Writing Question or Supplemental Essay Prompt is different. Be prepared to write a variety of supplemental essays from short one-line responses to medium size responses to 650 word essays. No matter what the length, each response is a new chance to tell a different story or message about what you will offer a college.
 Use our Into, Though, and Beyond approach in each essay. In each essay provide a hook, key context information, and then powerful ending. You can find our tips for writing great essays on our website: www.allcollegeessays.org.
 Be even smarter than the smart writing questions or supplements. Some of your questions will appear based on what you answer in Member Question about particular majors or merit scholarships. Don't be surprised if an essay disappears if you change your major or select no to a particular program or scholarship. Keep a running track of what you have to write for each prompt based on your Member Question selections.
 Learn deeply about the personality and reputation of college. Think of what each college values when writing your supplemental essays. If the college is large, and asks a community or diversity question, think how you can make a big campus small. Think how you can enrich a diverse community and how well you can join existing communities. If the college is small, think of ways you can truly engage as a member of an intense learning community. If the college is religious, think of ways you can enrich the spiritual community.
Let us help you. All College Application Essays has done the hard work of collecting all the Supplemental Essays for you. We tell you where to find them, what each additional essay prompt requires, and the length and submission format. You don't need to waste your time collecting the essays and their formats, if we already have. Spend your time writing powerful essays that communicate even more reasons for a college to accept you.
 Recycle essays and re-use supplemental essays wisely. Remember, each question and/or supplement is separate and belongs to the individual college and you. The colleges do not communicate with each other, so you can use some of your essays over and over again, especially the longer ones and the optional activity statements. For example, you can see a way to use your University of Chicago Supplemental essays as your Boston College Supplement. Yet don't be careless, and cut and paste a college specific essay into the wrong college.
 Prepare an activity statement. A short statement about one of your activities is now optional for colleges to use. In 2014-2015, these statements appear in different places, so be prepared by having two to three statements ready to go. The word limit will vary based on the college so have a short, medium, and long version. Focus on your leadership and initiative while also grounding your response in a specific story. Also some of these essays may lead to even better longer essays.
 Share more core qualities in college "Dating" essays. Many colleges have specific essays prompts geared around why you and the college are a good match. Read the specific word on these prompts. Give colleges what they want, a reason to ask you out and ideally propose. Some colleges want only academic information while others want an overall essay. Understand that if they have this prompt, they want to know how you will fit into their campuses. They don't want mere recaps of what they know they offer. Think of how you can engage specifically on their campuses. Some campuses even send these essays out to professors or specific communities to read. Give specific examples from your visits, college fair talks with admissions officers, or emails with professors or current students. Let them picture you on their campuses by literally picturing yourself on their campus.
 Nothing is optional. Some colleges give you some optional essays. Do not ignore these options to offer new information.  Each essay is a chance to share a new reason why you belong on that campus. Of course, don't force yourself to answer an essay that doesn't match
 Read college's specific essay tips. Most colleges now have a variety of ways to communicate their views on college essays. Some even provide model essays, including, Johns Hopkins University, Carleton College, and Connecticut College. Others give great tips from The University of Michigan to Boston University. Read how colleges view the essays on their websites. College specific tips may help you write essays that you engage your admissions readers.
 Know the length and format of each college specific essay. You can submit essays in two ways—paste in or upload. The majority of colleges are using the "paste in" method. Some allow you to upload. All use word limits. Sadly, the text box does not always tell you the word limit even after you paste in. So you can experiment or save your time to write the essay by using our app: All College Application Essays. We provide each submission format—from whether it is required or optional, to word ranges, to submission methods.
 Use these additional essays to present even more powerful information about the additional ways you can enrich each college's campus. You have plenty of time. Now get going. First buy our app and soon to be released website, All College Application Essays, and then start brainstorming and writing your college application essays. If for some reasons, you cannot afford the app, let us know and we can send you a gift certification to purchase it.
2014-2015 August Prices
For the month of August, All College Application Essays will cost $29,99 for all new users. Current users will get the 2014-2015 colleges with no new charges until we implement our new integrated website version in late August-early September. Take advantage of our daily updates and unique ease of using our Apple and Android Apps. The website version is coming soon. Thanks for your patience.
Anyone who buys the app for the first time in August will receive a code to use the website for free for the 2014-2015 year. Current users will need to update when the new version is released.
Thank you for using All College Application Essays, the only app with the college application requirements for more than 750 colleges.